Back in the mid-90's Braid played with Boilermaker a few times on tour. They were all amazing and very genuine guys, including the band they were on tour with at the time, The Camera Obscura (from San Diego, not the indie-pop band from Glasgow who are currently active). I had a personal infatuation with The Camera Obscura because skateboarder Duane Pitre (who at one time rode for Alien Workshop) was in the band. At the time, I was still an avid ripper and was stoked to meet him.
I grew to love Boilermaker over those few days and fondly remember the shows in Atlanta and Louisville circa 1998. Terrin, the singer and bass player had a unique right-hand technique while playing that I found really interesting and they were unlike any band I had ever seen. They were always on and great live. We had met many bands from San Diego before; we knew the Spanakorzo guys and had stayed at the Wrenched Records house a few times and later befriended No Knife. We were also intrigued by the whole San Diego sound in general - we felt we were doing something similar at the same time in the Midwest, yet not quite as noisy as Swing Kids or later VSS and Clikitat Ikatowi. Befriending Boilermaker seemed natural and they immediately felt like old friends.
I stayed in contact with them for awhile after we met and followed their tour schedule. Once while home briefly from tour, I drove an hour and a half to see them play at a pizza shop in Peoria, IL. The next ten years or so flew by after that, and I stayed in touch with Terrin, mosty trying to shake him down for a copy of
In Wallace's Shadow
on vinyl, their masterpiece. They had done something very similar to Braid's first album with that release; they had taken old album covers and screened them and put their records inside so each individual copy was homemade and unique. That release was pretty hard to find and not many were pressed, so I continued to bug Terrin via e-mail for months about it - then gave up. He always responded and was always positive. He would say he knows he has an extra copy somewhere and it's mine as soon as he can find it.
For the next few years I would get messages from him randomly and out of the blue saying "I didn't forget about you, I'm still digging for that copy", as if my request long ago continued to weigh on him daily, like a monkey on his back. We'd jokingly swap a few messages about it and then I wouldn't hear from him for another 10 months or so. This went on for years, and at one point I didn't have the heart to tell him I had stumbled across a used copy at Amoeba in LA and pounced on it. Fulfilling a much needed want and adding a gem to my collection.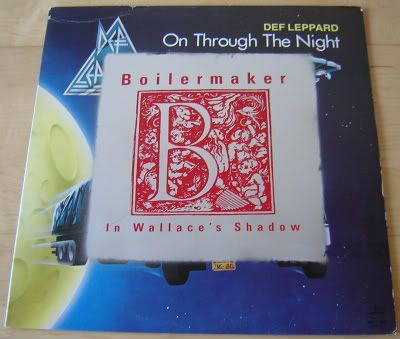 I had heard he had become pretty sick during this time, but we rarely talked about it. He was still playing and releasing music; with Chris from No Knife in The Jade Shader and playing off and on with Pinback. I received a last message from him in early October via Facebook, mentioning the record of course, and saying hello. My response was wishing him the best with the cancer treatments and asking him to stay in touch and offering him a home if he's ever back through Milwaukee. I hope he got to read that message.
He died last week at the young age of 34. An accomplished musician, loving father and amazing person. Terrin was a staple in several greatly underappreciated bands and this is a huge loss to the underground music community. You will be missed, friend. R.I.P. Terrin Durfey.